About the Patron Saint of our Parish: Saint Elizabeth of Hungary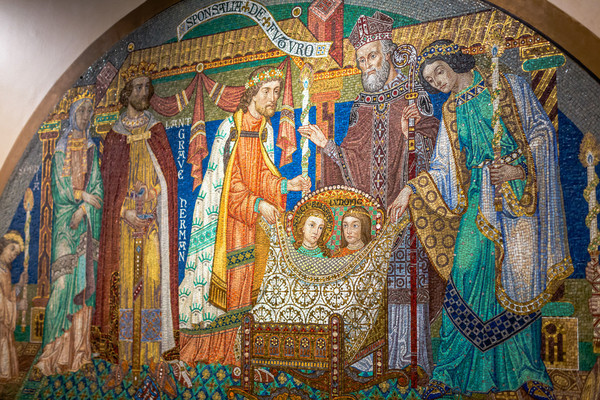 The Church celebrates the feast of St. Elizabeth of Hungary on November 17th. She is the patron saint of our parish. We remember her spiritual gifts and pray that her example may guide us still.  Elizabeth was born in Hungary, probably at Pressburg, in 1207.* She was the daughter of King Andrew II of Hungary and his wife Gertrude.
In 1213, Elizabeth's mother, Gertrude, was murdered by Hungarian nobles. In 1216, Hermann, who Elizabeth was to marry, died; after this she was betrothed to Ludwig, the second son. In 1221, Ludwig and Elizabeth were married, when Ludwig was twenty-one years old and Elizabeth was fourteen. The couple had three children, Hermann, Sophia and Gertrude, who was born several weeks after her father's death. Ludwig died of the plague in 1227 while he was in Palestine on a Crusade. When this news came to Elizabeth, now twenty years old and the mother of three, she cried out, "The world with all its joys is now dead to me."
But her work continued. Even before Ludwig's death, Elizabeth had administered the kingdom in his absence. Her governance was shaped by the presence of a community of Franciscans who had settled in her territory in 1221, the year of her marriage. Francis of Assisi was still living at this time and his spirit was spreading throughout Europe. That spirit spread to the heart of Elizabeth. She wanted to know the Lord in his poor ones. She wished to take a vow of poverty herself, but the Franciscan who was her spiritual advisor convinced her that her station in life did not allow this.
Instead, she became a member of the Third Order of St. Francis and devoted her energy to meeting the needs of those around her. She generously distributed alms to the needy, to the point of giving away official state robes and ornaments. She set up a hospital in Wartburg where she personally cared for the sick. She fed nine hundred of her destitute subjects every day.
After giving herself completely to this work of the Lord, Elizabeth died on November 17, 1231, at the age of twenty-four. In a very short time, many miracles of healing occurred near her grave. Elizabeth of Hungary was proclaimed a saint in 1235. She was later acclaimed as the greatest woman of the German Middle Ages. She is also, along with Louis IX of France, a patron saint of members of the Third Order of St. Francis.
In our church, the two mosaics on the side walls of the sanctuary commemorate Elizabeth's betrothal (on the west side) and her marriage (on the east side). Her statue, which stands in the entranceway to the church, shows her carrying a bouquet of roses. According to legend, in the early years of her marriage, her husband came upon her one day while she was engaged in her charitable work of dispersing the assets of the realm to the poor. Elizabeth wondered if he might disapprove of her generosity when he saw the large amount of bread for the hungry that she was carrying. However, what he saw was his beloved wife carrying a lovely bouquet of roses. He approved of what he saw, and Elizabeth's work continued.
As members of this parish, we can learn a good way to follow the example of our patron saint from the opening prayer for her feast day, which reads:
Father, you helped Elizabeth of Hungary to recognize and honor Christ in the poor of this world. Let her prayers help us to serve our brothers and sisters in times of trouble and need.
Saint Elizabeth of Hungary, Pray for us.
*Sources include the New Advent Catholic Encyclopedia
http://www.newadvent.org/cathen/05389a.htm
Parish History
Father James Ryan celebrated the first Mass of St. Elizabeth of Hungary Parish on April 2, 1956, on the gym stage at Grant School. Father Ryan's first rectory was a residence on Rayburn from which he offered weekday Masses. By August 12, 1956, groundbreaking ceremonies for a parish complex were held.
The first Mass was offered in the new church on August 11, 1957. Archbishop Joseph Ritter formally dedicated the parish on November 17th, the feast of St. Elizabeth of Hungary. Father Ryan remained pastor until his death on July 25, 1973. During Father Ryan's illness, Monsignor Joseph Kennedy was appointed Administrator. He then served until 1981 as an Associate Pastor. Father William Ahrens served as pastor from October 1973 to 1985.
From June 1985 to June 1987, Father Ronald R. Tiefenbrunn served as Pastor. In these years, Fr. Robert Babka, Fr. Dennis Schmidt, and Fr. Donald Hoffman served as Associate Pastors. Fr. Donald Buhr succeeded Fr. Tiefenbrunn and served as Pastor until June 1996. In 1996, Fr. Thomas Haley was appointed as Pastor and served until June 2002. Fr. John Comer served as Associate Pastor.
In 2002, Fr. James Edwards was appointed as Pastor. Due to changing demographics and a declining school enrollment, discussions with St. Justin Martyr Parish began about combining the parish elementary schools. At the end of the 20032004 school year, St. Elizabeth Parish closed its school and merged it with St. Justin. An agreement was made whereby parishioners from St. Elizabeth of Hungary who desire to enroll their children in a Catholic elementary school are welcome to enroll in St. Justin School while remaining parishioners at St. Elizabeth.
In 2008-2009, Fr. Joseph Weber, pastor of St. Justin Martyr, served as temporary administrator of the parish during the illness of Fr. Edwards, who ministered until 2009. Fr. Gregory Lockwood was appointed parochial administrator in October 2009, until his assignment to the Diocese of Kansas City-St. Joseph in 2011.
On July 1, 2011, the Solemnity of the Most Sacred Heart of Jesus, Msgr. Timothy Cronin was appointed Pastor until his assignment to St. Joseph Parish in Imperial, Missouri, in August 2012. On August 28, 2012 Msgr. Richard Hanneke was appointed parochial administrator until he was appointed Pastor at Our Lady of Lourdes Parish in University City on July 1, 2014. On July 1, 2014, Fr. Chris Martin, Director of Vocations, was appointed parochial administrator until he was appointed Vice Rector of Kenrick Seminary on July 1, 2016. On July 1, 2016 Fr. Lawrence Brennan was appointed Pastor until he was assigned a full time teaching position at Kenrick Seminary on July 1, 2017. On July 1, 2017, Fr. Brian Fallon, Director of Vocations, was appointed parochial administrator and on July 7, 2018 was appointed Pastor until he was appointed Pastor at St. Mary Magdalen Parish in St.  Louis City.  
In January of 2020 Archbishop Carlson of the Archdiocese of St. Louis and Bishop Zaidan of the Eparchy of Our Lady of Lebanon Los Angeles announced a new partnership for St. Elizabeth of Hungary parish under the leadership of the Maronite Eparchy of Our Lady of Lebanon Los Angeles.  On July 1, 2020, Fr. John Nahal, Rector of St. Raymond's Maronite Cathedral, was also appointed as Pastor of St. Elizabeth of Hungary parish.
The history of St. Elizabeth of Hungary is a history of the Catholic community in Crestwood: a people with a diversity of interests united in one Faith and one Lord, Jesus Christ. Throughout this history, the faithful of St. Elizabeth Parish have been generous in their willingness to volunteer, to lend a hand to those in need, and to share the blessings of God with others. The gifts of faith, commitment, time and love exemplify dedication to the Lord, the Church, and one another.